HIKING IN UTAH
Hiking brings me a sense of peacefulness, accomplishment and it recharges my batteries. I hope that by reading my blog posts I can motivate you to go outside as well and to breathe it all in so that you can leave other things out.
With my passion for hiking Utah had been on my mind for a while. So I decided to do a quick getaway and visit three natural parks. The first stop was Arches National Park. We drove straight from the airport so that we could make it to the sunrise. The road got pitch black at some point so we had to drive super slowly and we didn't make it on time but we saw the sunrise while on the road.
We still got to Arches super early and that was good to avoid tourists. Although it was still a bit crowded. I can't imagine how that place looks like later in the day. So I'd totally recommend you guys go as early as possible.
The park contains the highest amount of natural arches in the world. Every where you look, there's an arch. It might look like you could stay there an entire day but a morning will do to see most of it.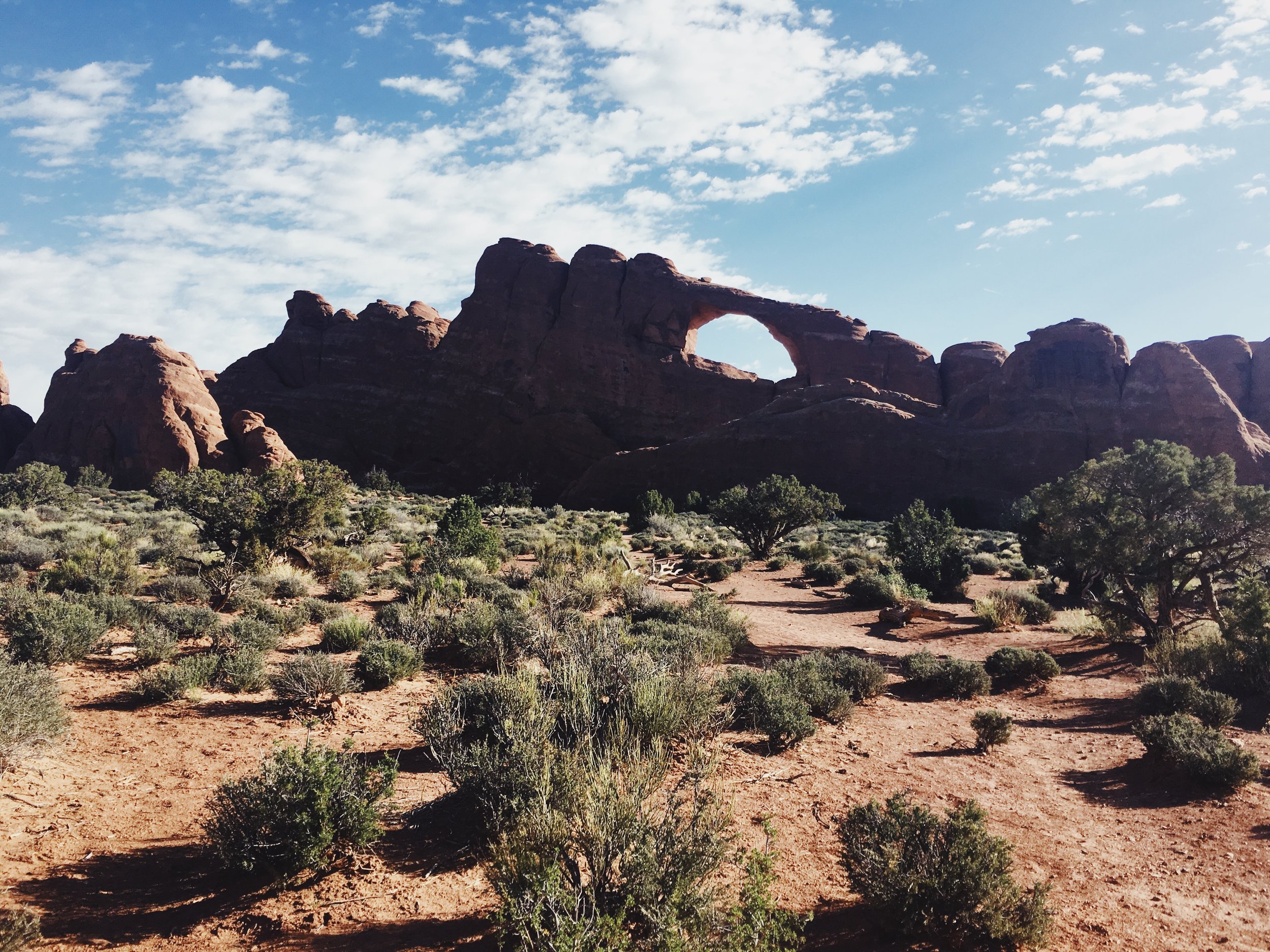 As the child desert I am I was really excited when I was packing because I knew I was going to wear once again some desert outfits. What can I say, I think I must have been a cowboy in another life (and now that I mention this, stay tuned next year for a cool trip I have in mind related to another one of my passions: horses)
After 3-4h we were on the road again on our way to our "hotel" in Capitol Reef. On the way we passed by a couple of western towns.
After a long drive we made it to Capitol Reef Resort, a hotel-lodge that has regular rooms but also, the most amazing tents.
It wasn't my first time sleeping in a tent like that, more like my fourth time. Oh well! I guess this whole glamping thing really got me guys! But think about it. I am a really outdoorsy person and sleeping in the middle of nature, under the stars and surrounded by animals it's my idea of a perfect getaway. But until this glamping trend of luxe tents, RV's, Airstreams, cabins, yurts, etc... I didn't do this kind of trips that much because I just didn't see myself in a sleeping bag on a floor tent. Unlike those floor tents these ones where really comfy.
I was really happy I could take this jacket for a walk. I got it at a vintage store on one of my trips to Joshua Tree and I don't get to wear it in Miami that much. Hot weather and jackets don't do well together. Also, the one day I wore it in Miami, I looked like someone who got lost on the way to Coachella.
We spent there 3 nights and although we loved it, If you are going to be visiting different parks I'd suggest you sleep in places that are near them so that you don't have to keep driving back like we did.
During the night all the tents were illuminated and there was a fire pit where you could make s'mores.
Capitol Reef Resort also has sheep wagons you can sleep in.
If you wanna channel your inner cowboy like me, go sleep in these tents!
And now, back to the parks! Our second park was the amazing Zion. It's a 4h drive from the tents so we got there a bit late to do the long hike which takes about 8h and it's a bit challenging. We weren't well outfitted anyways since you need trekking boots to do it. So we decided to do a 3h hike up a hill to enjoy the views. You can check a bit of our hike in the video at the end of this blog post.
Like the rest of the parks in Utah, Zion has the same reddish and tan color and depending on where the sun is you'll see different tones during the day.
The hike is pretty simple and people who are not trained can do it too but it can get a bit challenging because it gets pretty hot. So don't forget to bring water! We forgot because we didn't think it was going to be that hard and hot. Believe me, you'll need it. After and hour without water I would have gladly trade one of my friends for a sip.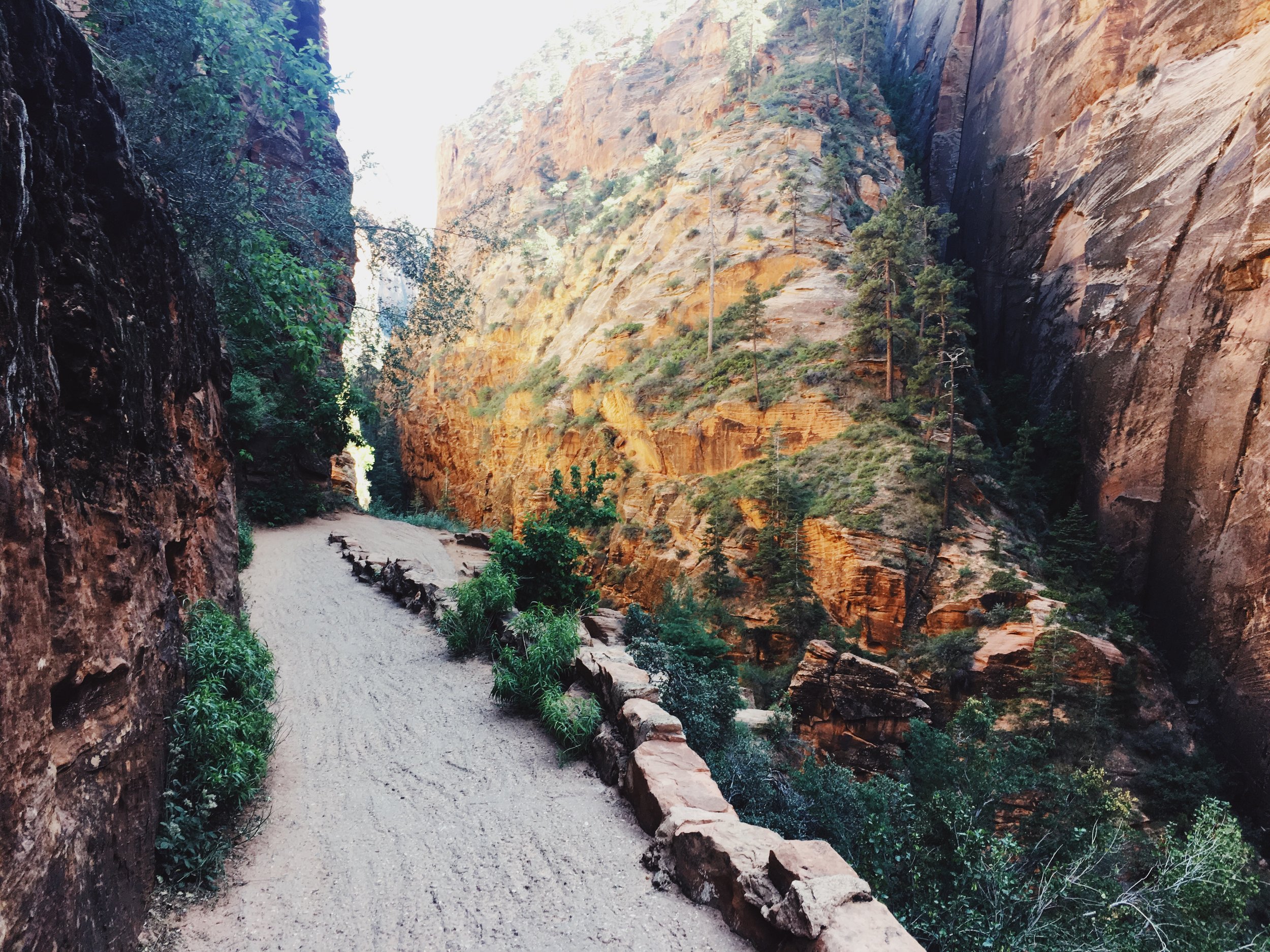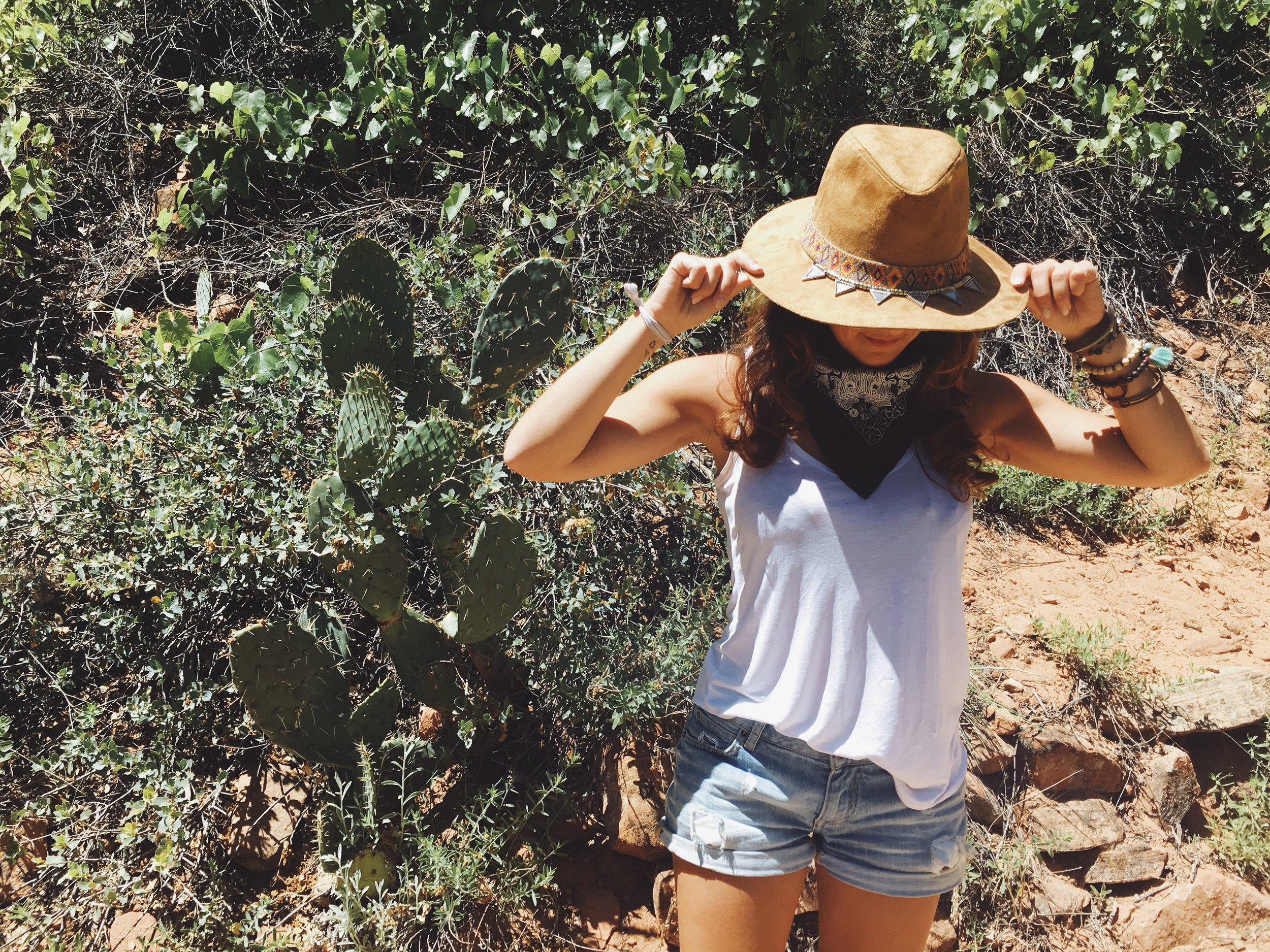 Making it to the top will take you around 2h. An "easy" hike that is totally worth it.
The way down will be much easier and you can make it in less than an hour (if you are not a blogger and your friend is not a photographer. In that case double the time.)
Once you are at the bottom of the park again you can take mini hikes and pass through the river.
Our hike was a success as you can see in the image below.
After the hike we were really hungry and since we had a 4h drive back we decided to have dinner in the village. You'll find plenty of good restaurants there. After dinner we hit the road and that night... we weren't able to make it back to the tents. Wanna know what happened to us? Check the video I made to find out. Believe me, it's worth it. You can find the video at the end of this blog post.
The following day, even though we were extremely tired after a rough night we decided to visit a new park but since we hadn't slept that night we made several stops on the road to rest a bit.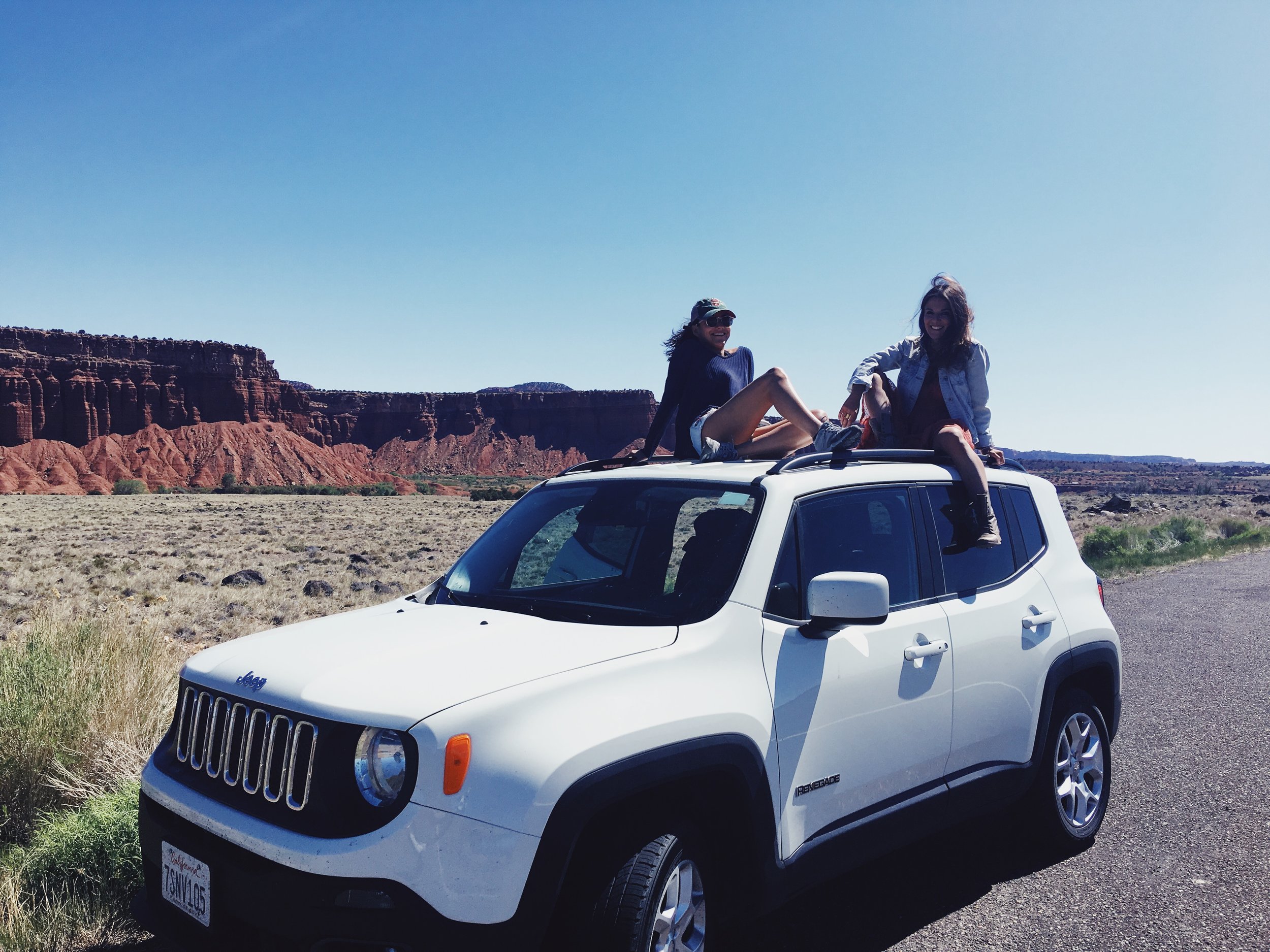 Finally, we made it to Bryce, a natural park with geological structures called hoodoos. We hiked for about 2h and we were able to see the main sceneries. Even if you don't want to hike you can get by car to the highest point to see the views.
If you do want to hike for a bit, there's a trail you can follow all the way down.
That was our last park of the trip. But Utah has many many more. And even though the sand reddish color might be the same, every park is different from each other. So, if you have the time, go to Utah for 8-9 days so that you can visit all the parks. If you have more time, some people do Arizona + Utah on the same trip. If you are interested in Arizona, check my trip here.
After the park, we deserved a scape to a secret place I found doing my research of Utah. It's a bit out of the way but it was worth it.
The place is called Mystic Hot Springs. It's a hidden gem in a small town run by really bohemian people. We soaked in there for hours.
The water is natural and it's really hot which feels amazing considering that it was it chilly outside. It is also the perfect reward after doing the hikes around the parks.
They have several hot tubs around the place. Some are alone and some are together like these ones.
After our healing bath it was time to go back to the tents to spend our last night there. And that's the end of our trip but before I finish this post, here's the video I made where you'll discover what happened to us on that night. Also, don't forget to subscribe to my YouTube Channel here so that you can stay tuned with all my trips!
WATCH THE VIDEO!