NORTHERN CALIFORNIA GETAWAY
I've never had a strong sense of belonging to a country or a city. But there are places, like California, that could make me change my mind.
I've told you before how being from Barcelona and living in Miami I really miss the change of sceneries. To get out of Florida and see something interesting it would take like 8h. But California... In a 2-4 hour drive you can be in the desert, in the mountains, in a cool city, in the coast or lost in the woods.
That's why I decided to take advantage of a work trip to San Francisco to visit a couple of places in the north. But before, I spent a couple of nights in the city. I couldn't visit much but I did take pictures of the hotels I stayed at. The first night I stayed at The Clift, a modern and eclectic boutique hotel designed by Philipe Stark.
The hotel has a huge Eames chair and even a coffee table designed by my favorite artist, Dalí. Even the corridors in the hotel are cool. And of course, I couldn't help it... I took so many pics there. The hotel is also walking distance to Union Square and China Town.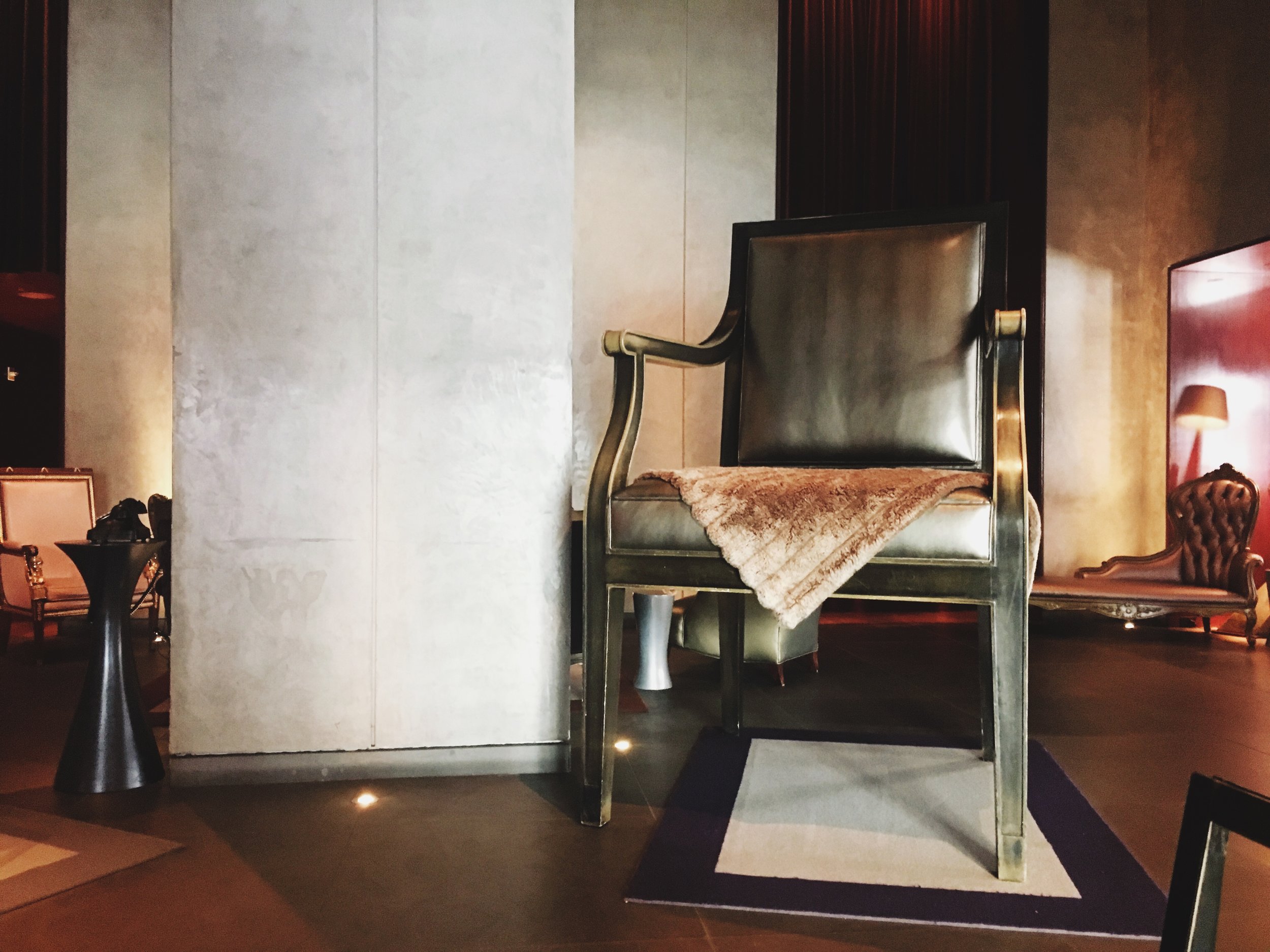 On a quick break from work I had to go try some crêpes I had seen on Instagram. The place is located in Japan Town. But a trip there is always worth it. Specially if you like ramen. So, after a hot noddles bowl go to "Belly Good Café" and order a "Happy Face Crepe". And if after seeing that face you are still able to eat it you'll discover that they are not only cute but the crêpes (Pardon my french - no pun intended) are yummy AF!
The second night in San Fran I stayed at the contemporary Hotel Zeppelin where every corner is Instagram worth it. Also, located in the downtown area and pretty close to all the stores in Union Square.
After a short stay in San Francisco, my friend and stylist @TheStylistStory arrived in town and we hit the road! As the wine lovers we are, we had to go to Sonoma to stay at a vineyard. Once we were getting close, we stopped a little town to buy bread and local cheese. I'd recommend you do the same. The hardest part was choosing which @AirBnB we wanted to stay at in Sonoma. And we chose right! The owner lives in the main house but we barely saw her. We had a little studio, a vineyard, a pool and a jacuzzi just for ourselves.
The studio was perfect. Minimal, comfy and great design. When we got there the host had left us a basket with chocolates, snacks and a bottle of wine of her own vineyard. The interior of the house is very industrial and there's a stylish iron chimney hanging from the ceiling. The front part is all glass and it's facing the vineyard. The best part of it was waking up in the morning with those views.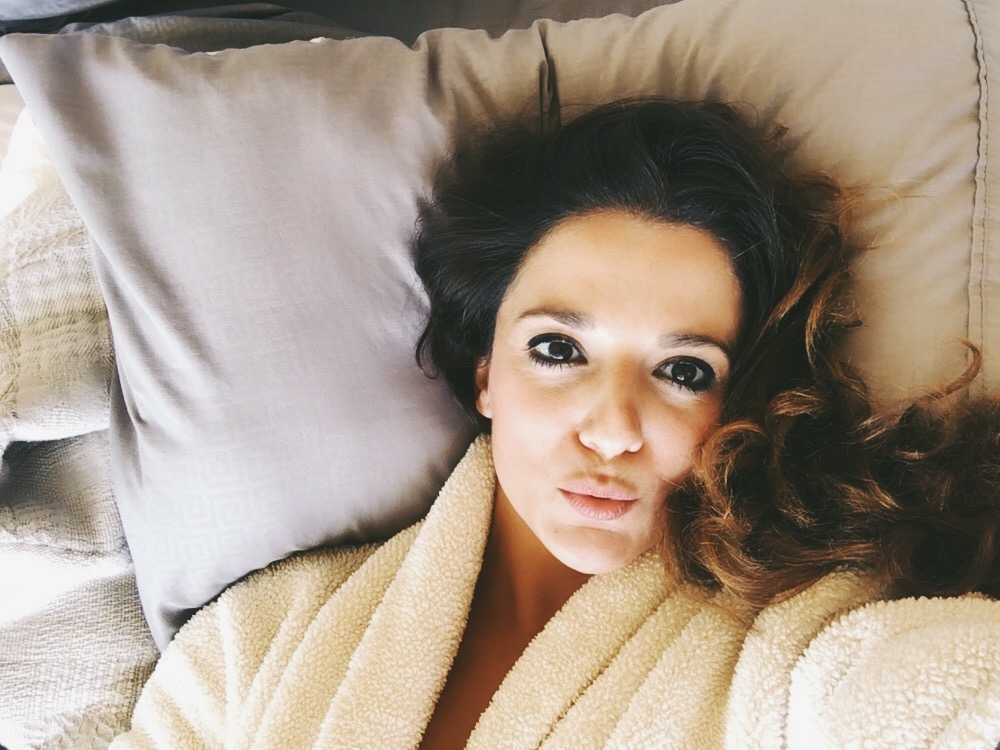 The outside part of the house has a big rustic table and a small one facing the vineyard.
The big pool was definitely my favorite part of the house. A little cold but I'm sure it's perfect in summer.
All the houses in that area are apart from each other so you wont't hear or see a thing. That was pretty cool not just for the peaceful feeling but also for all the pics we wanted to take without anyone watching! What can I say guys, that's what happens when you put a blogger and a stylist together.
Have I mentioned the house has a jacuzzi? We soaked in there for hours with gin tonics, cheese and bread looking at the vineyard and if you'd knew my friend Diana... you'd know that we also laughed for hours.
When we went to walk around the vineyard we discovered the swing! So of course, we left the vineyard for later!
The house also has a barn. Thankfully I discovered it when we were about to leave or I wouldn't have slept. Don't judge! Every scary movie at some point has someone being followed to a barn! But during the day it looked cute.
And finally, the vineyard. For wine lovers, Sonoma is a paradise. And this house was just perfect to get the full experience. If you want to rent it for a few days here's the AirBnB listing.
After a few nights there we hit the road again. We went up north all the way to Albion. I am obsessed with cabins in the woods. I am pretty sure I follow all the cabin accounts on Instagram. The north of California has plenty of them. Just make sure you reserve in advance! The drive to Albion took us around 3h but even the trip was worth it because of the scenery. We passed by vineyards, valleys and forests with huge trees.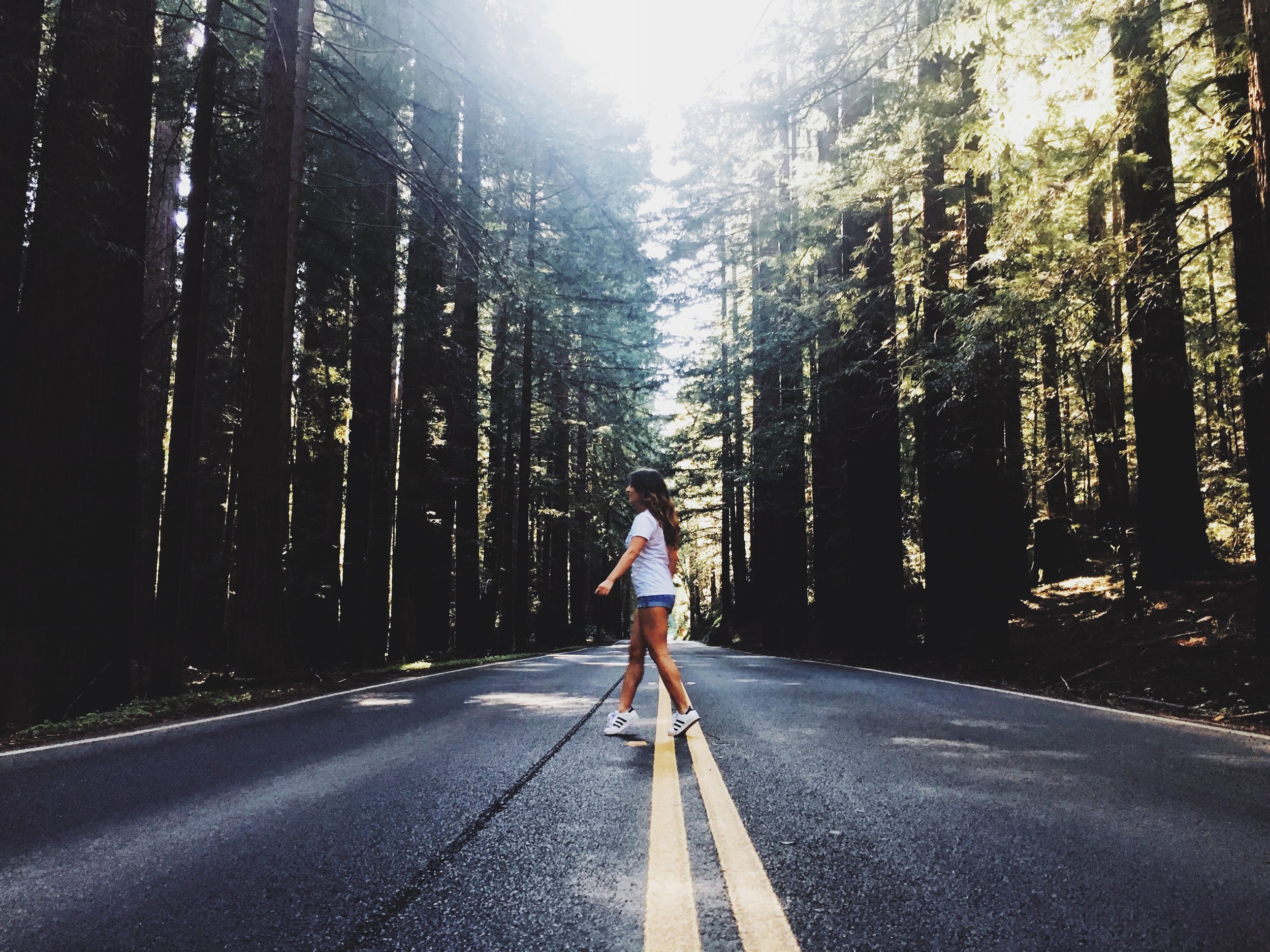 Our destination was a cabin in the middle of the woods. An old and really sweet couple are the ones who rent it. So first, we passed by their big house to get the keys and then they took us to the cabin.
The cottage is super secluded and hidden in the woods. Once we got inside we saw that the owners had left us a bottle of wine and eggs from their own farm. The cottage is super cozy and I'd stay there a thousand times again but... I am a chicken and if you are too, the night might be a bit tough for you since everything in that house creaks!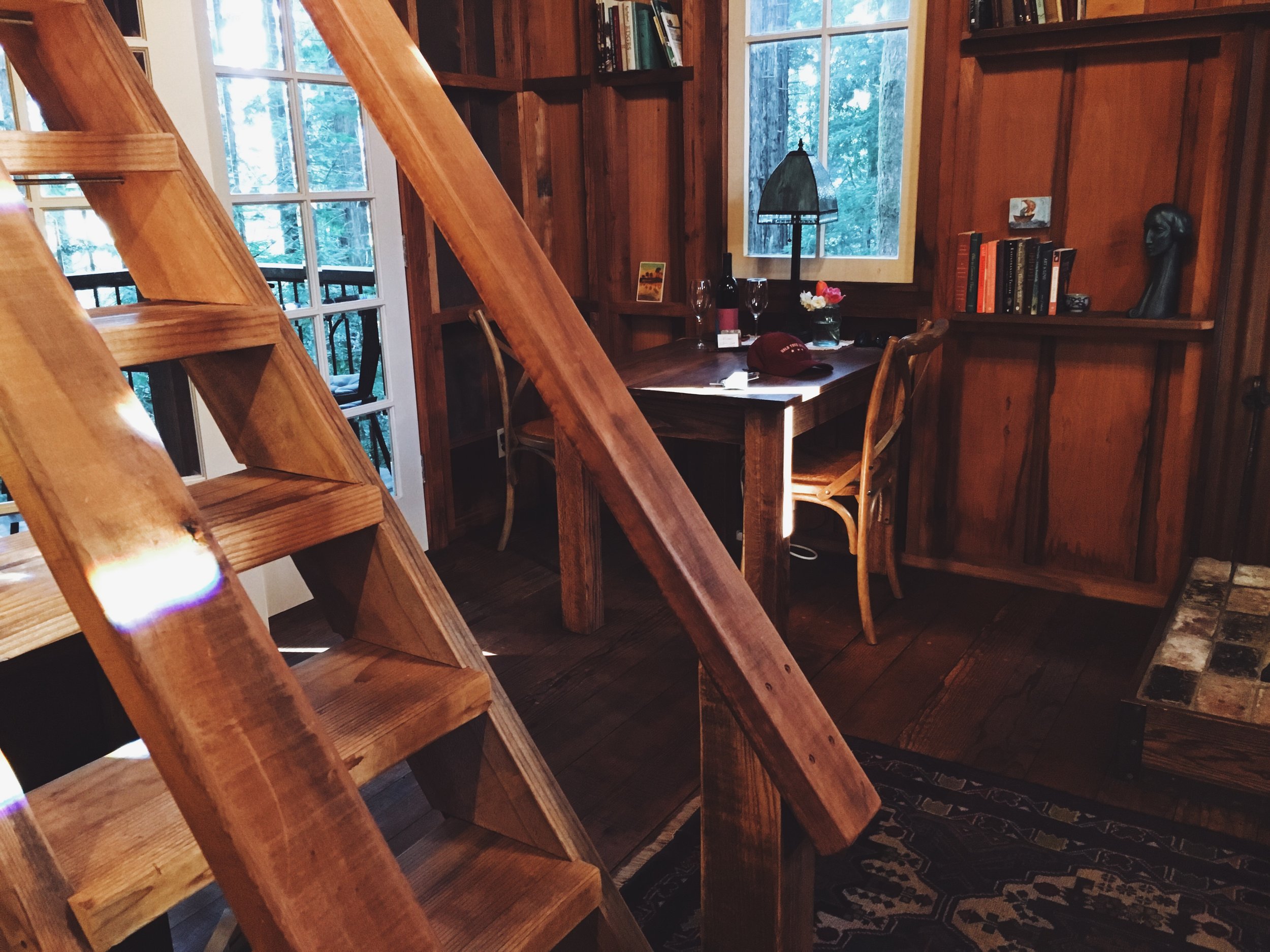 The part of the house that I liked the most is the balcony on the back. The restroom is also there so if you have to use it at night.. yeah, you gotta pass through the balcony and baby... it's cold outside!
Having a glass of wine there and having breakfast was amazing. Specially having those fresh farm eggs!
In the morning we walked a bit around the forest to breathe it all in before heading back to the city.
I love this pic! I'm wearing a traditional Spanish "mantón" that my parents got me for Christmas last year.
And of course, there was a barn too and again I discovered it the day after, thankfully. The creaks were enough to keep me up. I really didn't need to know about the barn.
Our stay in the cabin was great, creaks included! And the hosts are as sweet as it gets. If you guys want to rent it here's the AirBnb listing.
On our way back we made a "quick stop" (not that quick, it's kinda out of the way) in Point Reyes to see a cypress tree tunnel.
And finally, a little surprise. A bunch of you were asking me to make videos of the trips. So here's the first one! I wasn't planning on making a video when I took this trip so the footage might not be as good but I still wanted to share it with you guys so that you could get a glimpse of our airbnb rentals. If you want to stay up to date with my trips, subscribe to my YouTube channel!